Data Loss Advice

Other Services

About Datatrack Labs


FREE Collection Service from:
Aberdeen
Armagh
Bangor
Bath
Belfast
Birmingham
Bradford
Brighton
Bristol
Cambridge
Canterbury
Cardiff
Carlisle
Chester
Chichester
Coventry
Derby
Dundee
Durham
Edinburgh
Ely
Exeter
Glasgow
Gloucester
Hereford
Hove
Hull
Inverness
Kingston
Lancaster
Leeds
Leicester
Lichfield
Lincoln
Lisburn
Liverpool
London
Londonderry
Manchester
Newcastle
Newport
Newry
Norwich
Nottingham
Oxford
Peterborough
Plymouth
Portsmouth
Preston
Ripon
Salford
Salisbury
Sheffield
Southampton
St Albans
St Davids
Stirling
Stoke on Trent
Sunderland
Swansea
Truro
Wakefield
Wells
Westminster
Winchester
Wolverhampton
Worcester
York
#1 Data Recovery Company in the British Isles
Last year Datatrack Labs Ltd received a massive 300% increase in data recovery requests from Small to Medium Businesses, Large Blue Chip Companies and Home Consumers.
This increase is a direct result of their industry leading data recovery capabilities, customer orientated approach and unparallel commitment to providing the best value data recovery service in the UK and Ireland today.
Unlike the majority of our competitors, Datatrack Labs Ltd are one of a select few companies which are members of the
International Professional Data Recovery Association
. Ensure whoever you
entrust your important data to are members of the IPDRA
. Datatrack Labs can assist you in anything from
clicking laptop hard drives, peculiar sounding desktop hard drive's, totally dead external hard drive's, failed USB devices, memory cards and Exchange or RAID Server Recovery
.
Datatrack Labs will provide a totally free evaluation which will be completed within 4 hours of receipt of the media, followed by a fixed price no obligation quote. This is a massive 20 hours faster than the nearest competitors.
Hard Drive Data Recovery from as little as £79, there is little wonder why we are
probably the nations favourite data recovery provider
. Call
0800 043 3282
to speak with an advisor now or request a quote online and
instantly save 15%
.
Tweets by @thedatalab
Press Room
Datatrack Labs leading the way for RAID 5 Recovery

Datatrack Labs Ltd have now trebled their capacity to deal with data recovery uk for RAID 0, RAID 5, RAID 6 and Server Recovery.
If you have lost data such as crucial data then our UK and Europe Leading data recovery service can assist. Please complete an online quote request form or call
0800 043 3282
for free advice.
31/01/2013
Experience Data Recovery Professionals wanted.....

Datatrack Labs are now recruiting, if you have experience in hard drive data recovery, sd card repair, raid recovery, flash drive repair we would love to hear from you. Please send your CV to
recruitment@datatrack-labs.co.uk
23/11/2011
Top 5 at Data Recovery Professionals

Datatrack Labs are now proud to announce that they are now in the Top 5 Recommended Companies by Data Recovery Professionals. Data Recovery Professionals is the only dedicated data recovery company review site which enables passed clients to review and score the service they have received from the UK's most prominent data recovery companies. Previous clients can submit their reviews by following this link
www.datarecoveryprofessionals.net
18/05/2011
Unbeatable RAID 5 recovery offer! Cash back if we recover it, cash back if we fail. If we don't recover it, we give you £125!

Datatrack Labs are now offering cash back offers in the event of an unsuccessful or successful recovery on RAID 5 systems. Datatrack Labs are so confident in their RAID 5 Data Recovery abilities that they are able to provide this unique offer, in the unlikely event of an unsuccessful recovery, Datatrack Labs Ltd will pay the sender £125. If we recover the data, Datatrack Labs will pay the sender £125. Send us your RAID 5 to receive £125! No Fuss.
Terms and conditions apply
.
RAID 5 Cash Back Offer Terms and Conditions.
This offer is only valid for RAID 5 systems which are suffering from logical failure. All disks present in the RAID system have to be mechanically sound. All Disks must be present and not be removed from the RAID system. This offer is not applicable to any RAID systems where the data has been overwritten or the RAID rebuilt. This offer is not applicable if the RAID System has undergone an evaluation at any other company. This offer is not applicable if Datatrack Labs Ltd has any doubts over the accuracy of the failure description by the customer/client. Cash Back will be paid if the recovery is successful and if payment is completed in full within 7 days. Cash back will be paid within 30 days of agreement. This offer can be terminated at any time.
25/08/2009
Datatrack Labs Ltd upgrades its lab facilities to provide an unrivalled data recovery service.
Datatrack Labs has completed its lab refurbishment which now enables them to provide an unrivalled data recovery service. Datatrack Labs have doubled their capacity of data recovery systems so data recovery is now twice as fast and more economical. As a result of this new technology Datatrack Labs are offering 20% off all NAND (failed USB Pens, SD CARD's) recovery until further notice.
22/07/2009
Datatrack Labs are now members of the IPDRA
.
Datatrack Labs are one of only a select few companies which have been accepted for membership into the International Professional Data Recovery Association. The International Professional Data Recovery Association was set up to assist organisations and individuals that had lost data by pointing them towards qualified, experienced and certified Data Recovery company's. There are numerous websites advertising data recovery services, many of which claim to be the best at what they do but usually they don't have the facilities and technical aptitude to carry out professional data recovery services, this membership further emphasizes Datatrack Labs commitment to providing a high quality, economical data recovery service.
23//03/2009
Consumer Alert : Compare Data Recovery Website is FAKE
.
Datatrack Labs has today discovered that an extremely misleading data recovery comparison website has been launched; The website which claims to provide an impartial opinion based from user reviews is providing totally misleading and inaccurate information regarding the data recovery services provided by many of the data recovery providers. There is growing evidence that the people responsible for this site have direct links to the directors of another data recovery company. Datatrack Labs Ltd will like our customers to know that we have never and will never subscribe or participate in such a misleading and unethical business practice.
17/02/2009
Free Data Recovery for Seagate Owners.
Datatrack Labs offer FREE data recovery to anyone affected by the Seagate 7200.11 firmware issue. The problem has been identified as a memory leak in the cache memory, Datatrack Labs can boast a 100% recovery rate for any drive suffering from this fault. The models affected are...
DiamondMax 22
Barracuda 7200.11
Barracuda ES.2 SATA

STM31000340AS
STM31000640AS
STM3750330AS
STM3750630AS
STM3500320AS
STM3500620AS
STM3500820AS
STM31000334AS
STM3320614AS
STM3160813AS

ST31000340AS
ST31000640AS
ST3750330AS
ST3750630AS
ST3640330AS
ST3640630AS
ST3500320AS
ST3500620AS
ST3500820AS
ST31500341AS
ST31000333AS
ST3640323AS
ST3640623AS
ST3320613AS
ST3320813AS
ST3160813AS

ST31000340NS
ST3750330NS
ST3500320NS
ST3250310NS
If you suspect your hard drive is suffering from this fault, please complete an online quote request
here
or call
0800 043 3282
.
Terms and Conditions
Apply.
24/01/2009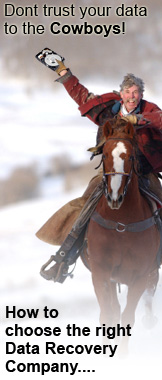 A Few Of Our Clients
- Panasonic
- Ministry of Defense
- Vodafone
- Barclays
- Shell UK
- American Express
- Hutchison 3G
- University of Manchester
- University of London
- University of Wales
- University of Strathclyde
- University of Sunderland
- Newcastle University
- NHS
- HSBC
- Argos
- Volvo
- IBM

Testimonial
I was very pleased with the service provided by Datatrack Labs Ltd. They were very helpful, honest, and kept me well informed at all stages. Initially my failed hard drive was sent to another firm which claims to be one of the cheapest for data recovery in the UK, and from the information given them over the phone, they said that recovery should not cost more than £97: however after evaluating my drive they said that the Head Disk Assembly Unit had failed and would have to be replaced before recovery could be attempted: this would cost £365. Being familiar with computing I felt this alleged failure did not match the symptoms so I had the drive returned immediately. I then sent it to Datatrack Labs who quickly confirmed my suspicions - the Head Disk Assembly Unit had not failed and they achieved a full recovery of my data for about £100 less than the other firm and included a new 500 GB external hard drive. I would confidently recommend Datatrack Labs Ltd to anyone with a failed hard drive.
Read More......
Dr B Heighton
Cornwall